Linutop TV is an online Digital Signage Service available on the internet or in local private server. More info on linutop.tv.
---
---
Chapter 1. Linutop TV
Linutop TV is an online Digital Signage Service.
Display your medias on your screens in 3 steps:
Import your files (medias) in your Library
Set up a Playlist and configure it (order, display time, etc.)
Connect your Player to your Playlist
---

Library : List all uploaded files
Playlist : Let you organize your playlist items
Options - Player status : Organize your broadcasted playlist
This tutorial will help you configure your own Playlist.
---
Chapter 2. Library
The Library is an online space where you can upload and stock your files (pictures, videos, musics, urls and templates). Upload your files in your Library by clicking on the "Add" button (located at the top of the Library).

---
Add a picture or a movie: Upload it from your computer.
Add an Internet website or video stream: Type the website that you would like to display.
Add a HTML page: Select a template, edit and name it.
Once the fields have been filled, click on "Submit" to upload data to your Library.
Note: The upload can take a few minutes depending of the size of your files.
The Library "Total Size" is limited to 1Gb (listed on the top of the Library panel).
To modify a template, click on the reading glass just opposite to the file. To remove a file from the Library, click on the cross just opposite to the file.
Linutop TV formats:
Videos (.avi, .mov, .mpg, .wma, .mp4, .flv)
Pictures (.png, .jpeg, .gif, .png)
Audio (.mp3, .wav, .ogg, .flac)
URLs (http://, https://, ftp://, rtsp://)
HTML templates
---
A template is a html page which can be edited. You can place a picture or a text. Linutop TV offers some pre-edited models.
To add a Template, click on one of the pre-edited templates, then "Submit"
You are now able to configure the template according to two different methods.
---
This mode let you display and edit your template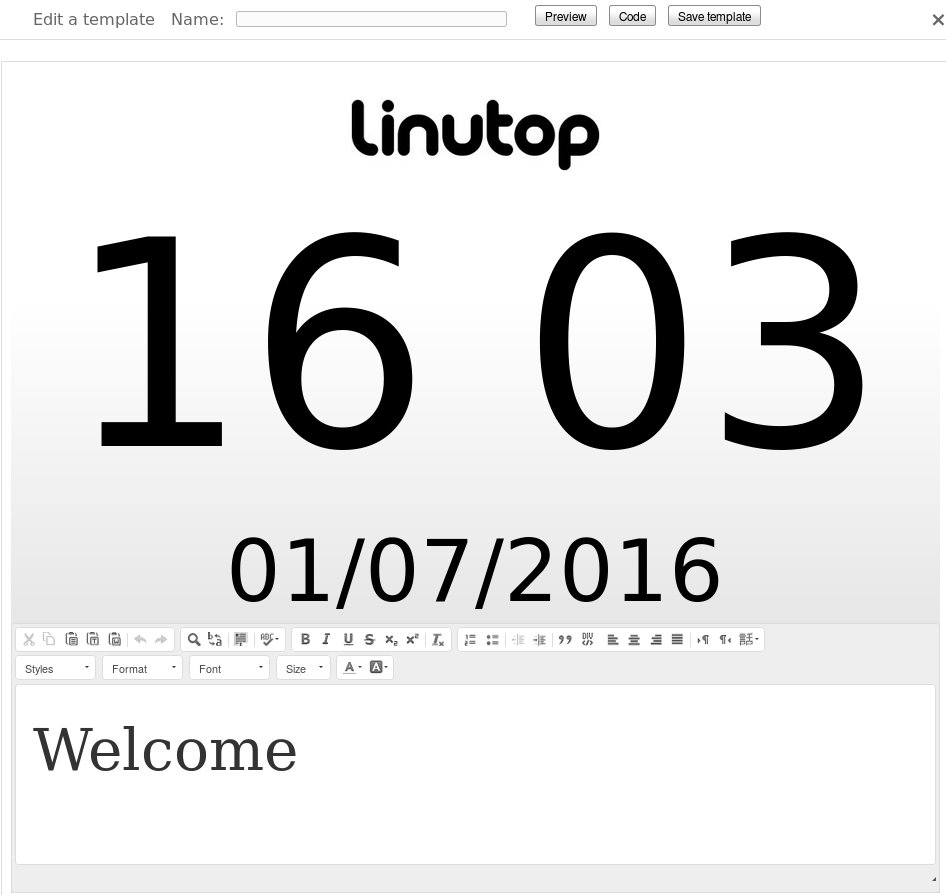 The bottom area let you edit the text with regular text edit interface.
---
Click on the
button. The HTML code of your template is now accessible. The edition of the code results in the automatic update of the preview.
---
You can preview your template by clicking the
button then the

button to return to editing your template.
Once your modifications are done, you can save them by clicking

(do not forget to name your template).
---
Chapter 4. Display your Playlist
Once the playlist has been edited (files order, display time, loop, etc.), click on "Settings". A menu will allow you to associate a Player (screen) with a Playlist (created online).

Channels : Linutop Player number (mini PC Linutop linked to the screen and with the Linutop Tv configuration). The Player could be a PC running a Linutop OS as well.
Label : Add a description according to its localization, its function, etc. (example : "waiting room", "London offices", ...).
Playlist : Choose the Playlist that you would like to Display on this Player. The playlist "Server_OFF" will shut down the Player screen.
Last update : Time of playlist's last update. When you hover over this box, date and time are displayed entirely.
Public : By checking this box, the selected playlist becomes public and is visible to all.
Preview : By clicking on the blue play button, you can preview your playlist.
Player status : This column display player status :
If information is "Ok" : Your player has been updated in the last 30 minutes.
If information is "Updating..." : Your playlist has been modified but the reader is processing the update.
If information is "Delayed" : Your player is outdated for at least 30 minutes (or disconnected from the network).
The "Password" tab allows you to change the password of your Linutop TV account.
---
Chapter 5. Local installation of your Linutop TV private server
For maximum privacy, a Linutop TV Server can be installed on your local network.
Go to the Panel Configuration : "Linutop" - "Panel Configuration".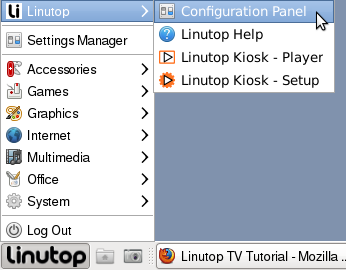 In the "Install" tab, enter your invoice number and address email and confirm by clicking the "Login" button.
A list of available configurations appears in the bottom frame. Select "Linutop TV private server setup installation" in this list. Click "Apply".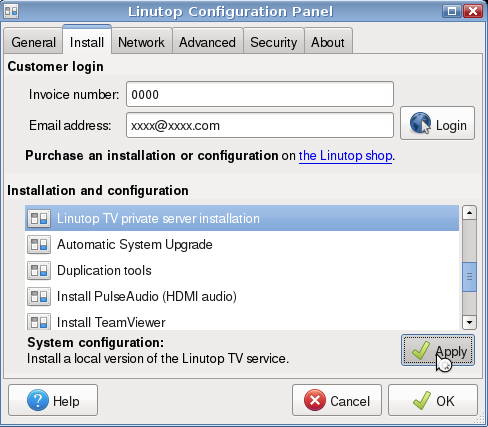 A message will confirm the installation. Exit Configuration Panel by clicking the "Ok" button.
Your server Linutop TV is now ready to use.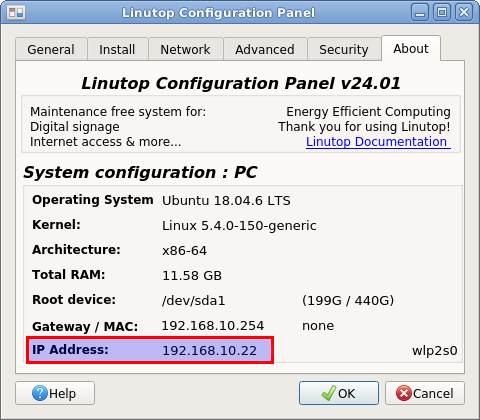 It is accessible with a web browser on your local network by typing the IP address of your computer, available in the "About" tab of the Configuration Panel
Now you can create your playlists.
---
Chapter 6. Installation of your Linutop TV private server on a VM (Virtual Machine)
Open VM VirtualBox Manager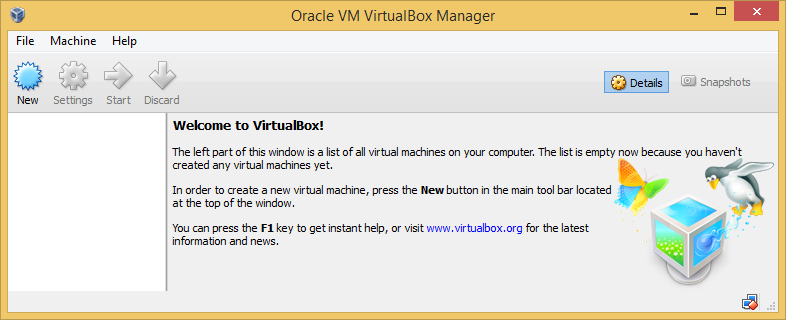 Select button New
Menus:
Name and operating system Name : 'Linutop' - Select Linux and Select Ubuntu (32-bits) and press "Next".
Hard disk: Select Create a virtual hardisk now and press "Next"
Hard disk file type : Select VDI and press "Next"
Storage on physical hard disk : Select dynamically allocated and press "Next"
File location ans size : Select 1GB or more and press "Create"
Now you Virtual machine is ready to receve the Iso Image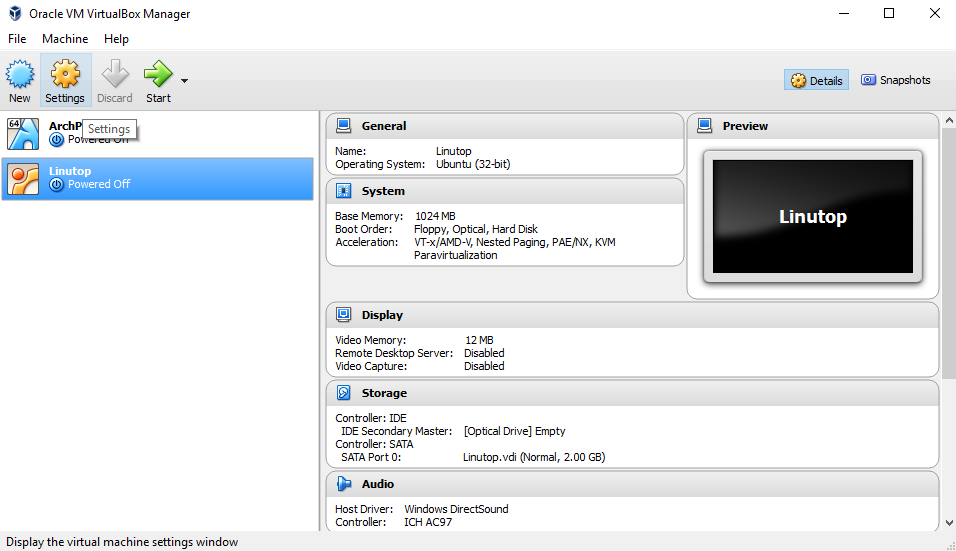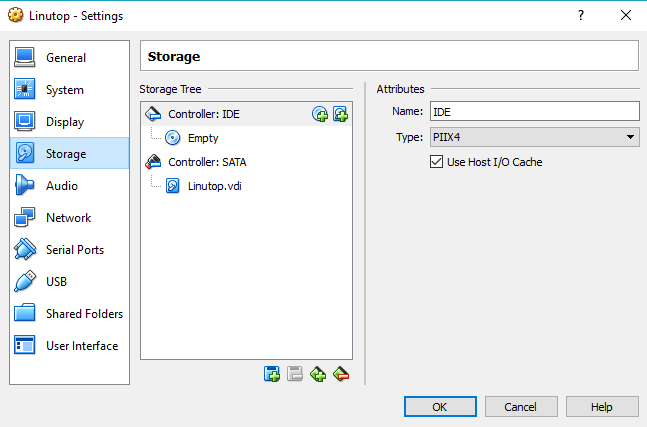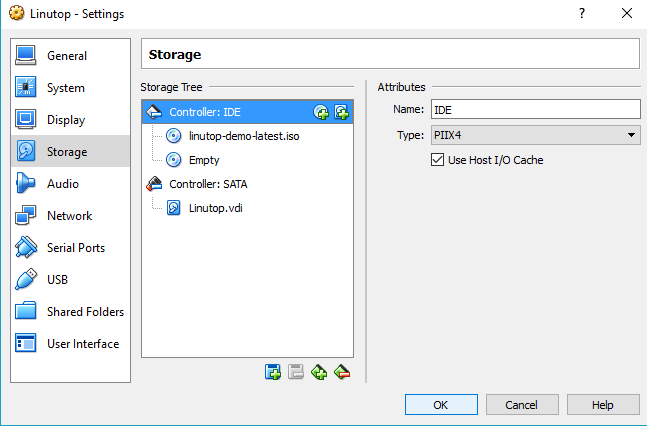 Your VM is ready to boot the Iso Image Just press start. You can now test linutop OS demo in your VM
To install the full version just use the install menu and install it on the second device :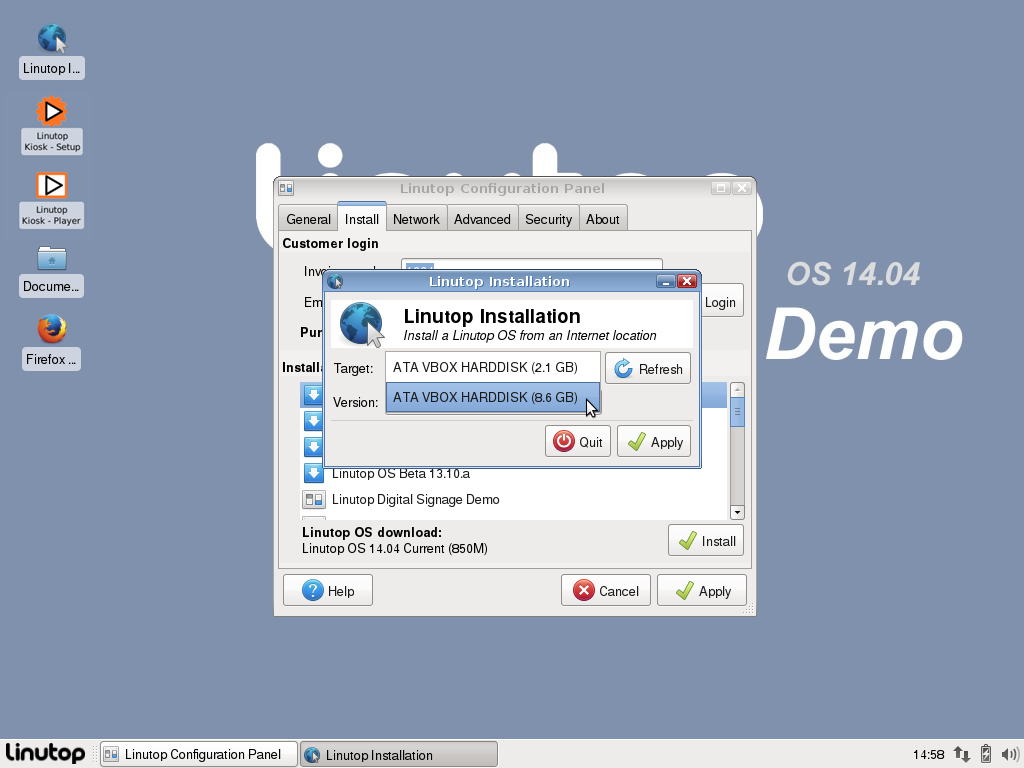 Once installed, you can removed the installed demo iso device and boot on the full version and then install your Linutop TV Private Server and proceed like a private local private installation (Chapter 5).